2017
2017 Car Show
The 57th Annual Car Show on April 14 & 15 2017 at Prairieland Park
Show Hours both days are 10 a.m. to 10 p.m.
Planning is underway for another exciting Draggins club car show. We look forward to seeing lots of participants & another great crowd
---
What to Expect
Pedal Car Raffle
Be sure to stop by the Saskatchewan Abilities booth at the show. You can purchase car show T-shirts, mugs, pins & raffle tickets. One item for raffle is this 55 Chevy Pedal Car, decked out with tuck & roll upholstery & complete with the drive-in food tray with refreshments & donated by Northend Warehousing Ltd of Saskatoon. They also will be raffling a beautiful toolbox barbeque and a 50's Jukebox.

The Scale Modellers Association of Saskatoon
They will have a display of their works set up & will be in attendance to answer your modelling questions. They will not be having any contest at the show this year but if you want more info on their contest in May check out their website
www.smasonline.net
All This and More at the Show



This year we have over 220 entries and are now at capacity in halls A,C,D,E at Prairieland Park.
Some of our vehicle highlights this year are:

-fully custom '29 Plymouth touring sedan locally built with 1200hp turbo diesel

-replica Muenster coach built on a '27 Model T Chassis

-'50 matte black Merc "lead sled"

Some of the other highlights in the show:

-over $10000 in trophies and cash awards

-$6000 in prizes for Battle of the Automotive Technician

-"Cool" Car Corral, park your ride outside & enjoy the show

Saskatchewan Abilities Council and Camp Easter Seal receive proceeds from the show. There will also be 50/50 tickets, the raffle tickets at the Abilities booth, dealer's of clothing, art, parts, etc.

Admission for the show is $15 (16-64), $10 (65+), $5 (6-15), & under 5 free. First 1000 kids each day will also receive a free Hot Wheels vehicle. People with cognitive or physical disabilities are admitted free of charge.

---
Host Hotels
Special Room rates are available, remember to tell the Desk Clerk that you are attending the Draggins Car Show!
Our Host hotels provide secure parking. Please note that vehicles are left at owners risk. The Draggins do not accept responsibility for any theft or damage.





www.SaskatoonInn.com
Toll Free: 1-800-667-8789
Fax: 306-244-2779

2002 Airport Drive
Saskatoon, SK
S7L-6M4




www.HeritageInn.net
Toll Free: 1-888-888-4374
Tel: 306-665-8121
Fax: 306-665-0064

102 Cardinal Crescent
Saskatoon, SK
S7L 6H6
---
Car Show Contact Numbers
Wayne Pegg 306-384-7223
Joel Prefontaine 306-260-7832
Matt Brown 306-382-9123
Draggins Clubhouse 306-931-0181
info@draggins.com or Contact Us
Fax 306-931-0146


---
Car Show Registration PDFs
---
B.O.T. Registration PDFs
---
Vender Registration PDF
---
Trophies

Download PDF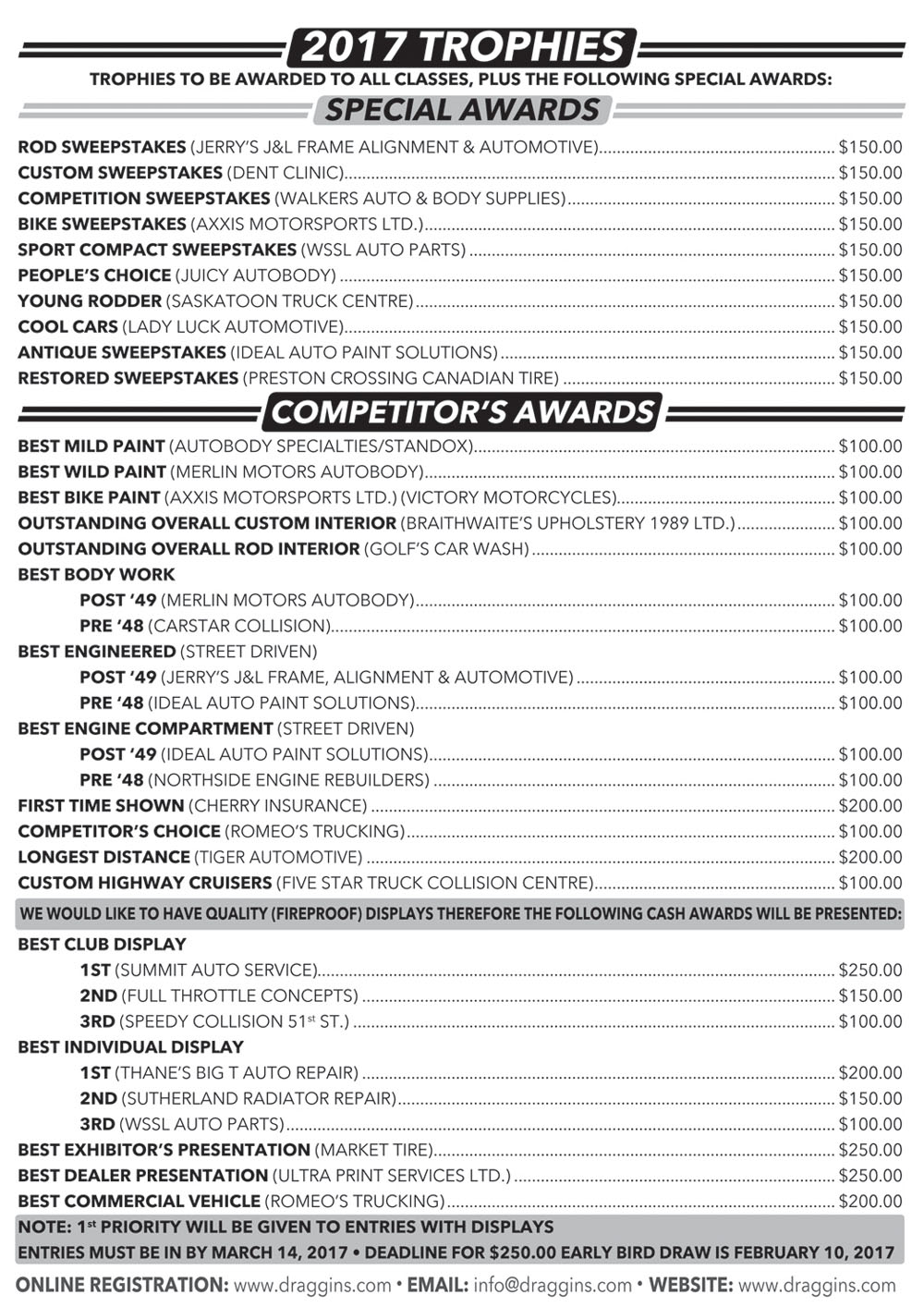 ---
Rules

Download PDF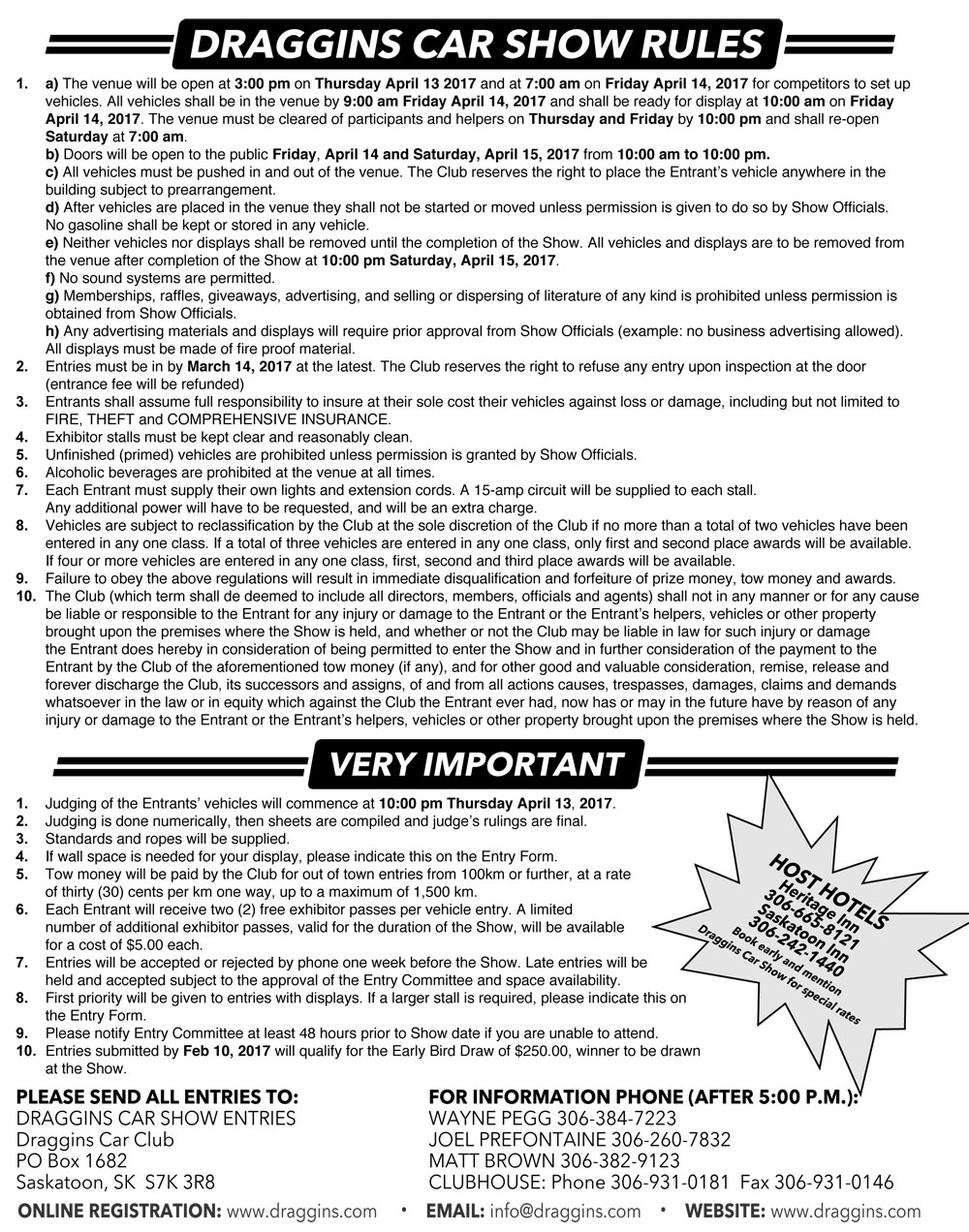 ---
Lotteries Information
The Draggins Rod and Custom Car Club are often approached by organizations wishing to sell tickets for their lotteries at the Draggins Annual Easter Week-end Car Show. The Draggins would like to offer the following criteria for selling lottery tickets at our show
All lotteries must be licenced by the Province of Saskatchewan.
The Abilities Council may sell licenced lottery tickets at the Draggins Car Show any and every year. Besides the Abilities Council the Draggins at their discretion may allow up to 3 additional lotteries to participate in our show.
All lotteries must be for the promotion of the automotive hobby by a recognized automotive club or organization and proceeds must go to the promotion of the hobby or a charity sponsored by that organization/club. There will a limit of one lottery per organization per year.
Lotteries must promote the automotive hobby and reflect positively on the Draggins Car Show and our organization.
When the Draggins Car Club has a Project Car Lottery or any other lottery we may want to have there will be no other lotteries allowed.
All requests/applications for the selling of lottery tickets at the Draggins Car Show must be received in writing before January 31st in the year of the show.
The Draggins reserve the right to evaluate all applications, choose lottery participants based on suitability and criteria. The Draggins may choose limit the number of organizations selling tickets at the show. Applications approval will be the sole choice of the Draggins by merit and not on a first come basis. As a part of the choice process the Draggins may choose to limit repeat lotteries.
---
Refund Policy
We reserve the right to refuse any entry upon inspection at the door (money will be refunded).

---