Draggins Car Show 2022 Car Show Photos
Special thanks to Darren Konecsni for the photos of this years show!
---
2022 Car Show Homepage
The 60th Draggins Car Show
Apr 15th - 16th, 2022
Admission
$20 - age 16 and up (includes swap meet entrance Saturday)

$10 - ages 6 - 15 (Free Hot Wheels car)
Free - Pre-schoolers, people with physical or congitive disabilities
---
The show is packed with hot rods, customs, antiques, muscle, classic vehicles and much, much more.
Many faithful fans return every year to watch and cheer at the extremely popular "Battle of the Automotive Technicians"!? This is an event that takes place at our show featuring teams of two people attempting to assemble a V8 engine in the fastest time.?
They compete for their share of over $6000 in trophies, cash & major merchandise prizes provided by our many great sponsors.

We are all very excited to see what has been going on these past couple years!
Draggins is following all directions from the Saskatchewan Health Authority and will keep in line with guidelines presented on SaskHealthAuthority.ca as well working with Prarieland Park for all guidelines available here.
---
Car Show Registration
---
Vendor Registration
---
B.O.T. Registration
---
Car Show Contact Numbers
---
Host Hotels
Special Room rates are available



Remember to tell the Desk Clerk that you are attending the Draggins Car Show!
-Our Host hotels provide secure parking.
-Please note that vehicles are left at owners risk.
-The Draggins do not accept responsibility for any theft or damage.


Saskatoon Inn

1-800-667-8789
2002 Airport Drive (map)
Saskatoon, SK, S7L-6M4

Sandman Signature - Saskatoon South

(306) 518-7263
2815 Lorne Avenue (map)
Saskatoon, Saskatchewan, S7J 0S5
---
Trophies

Download PDF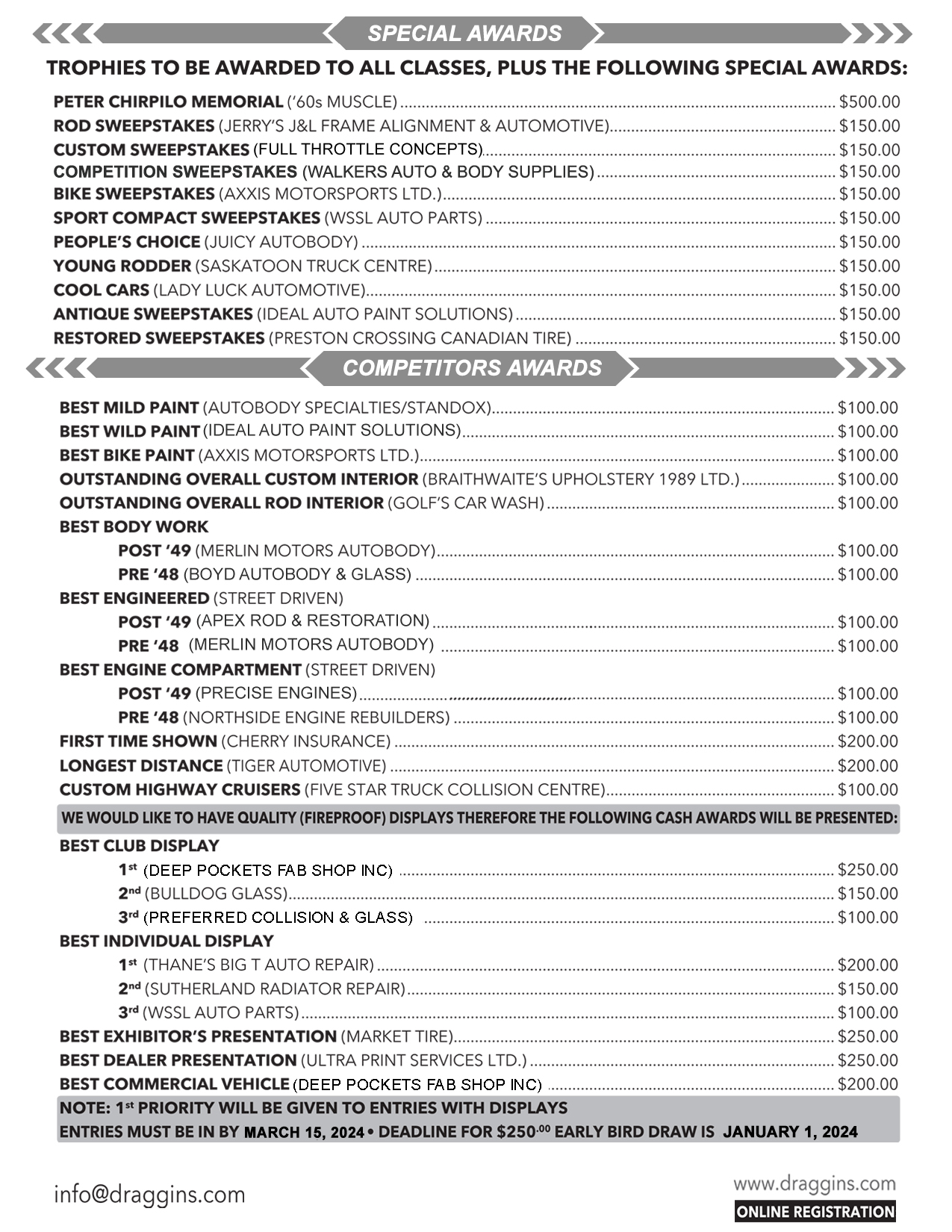 ---
Rules

Download PDF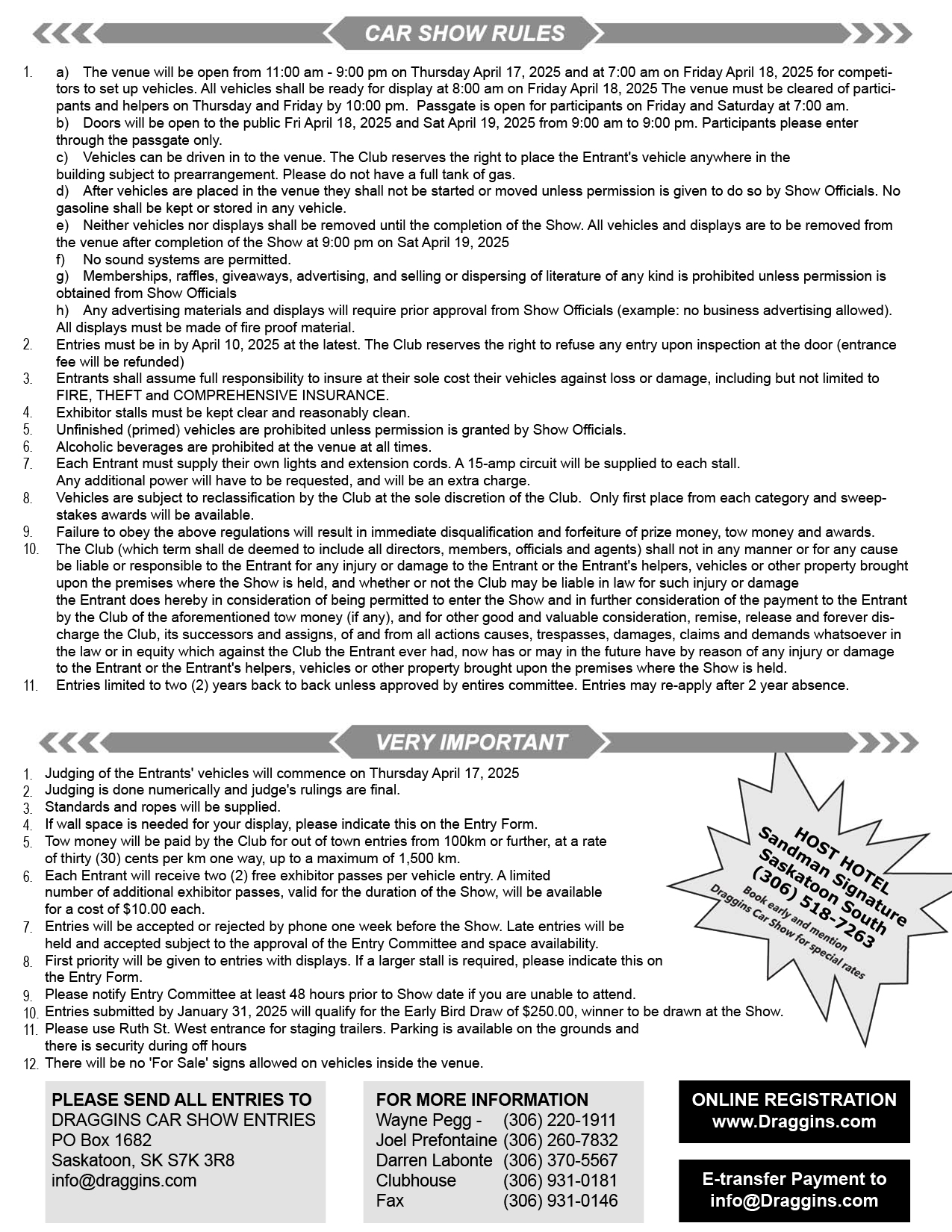 ---
Lotteries Information
The Draggins Rod and Custom Car Club are often approached by organizations wishing to sell tickets for their lotteries at the Draggins Annual Easter Week-end Car Show. The Draggins would like to offer the following criteria for selling lottery tickets at our show
When the Draggins Car Club has a Project Car Lottery or any other lottery there will be no other lotteries allowed
All lotteries must be licenced by the Province of Saskatchewan.
The Abilities Council may sell licenced lottery tickets at the Draggins Car Show any and every year. Besides the Abilities Council the Draggins at their discretion may allow up to 3 additional lotteries to participate in our show.
All lotteries must be for the promotion of the automotive hobby by a recognized automotive club or organization and proceeds must go to the promotion of the hobby or a charity sponsored by that organization/club. There will a limit of one lottery per organization per year.
Lotteries must promote the automotive hobby and reflect positively on the Draggins Car Show and our organization.
All requests/applications for the selling of lottery tickets at the Draggins Car Show must be received in writing before January 31st in the year of the show.
The Draggins reserve the right to evaluate all applications, choose lottery participants based on suitability and criteria. The Draggins may choose limit the number of organizations selling tickets at the show. Applications approval will be the sole choice of the Draggins by merit and not on a first come basis. As a part of the choice process the Draggins may choose to limit repeat lotteries.
---
Parking Information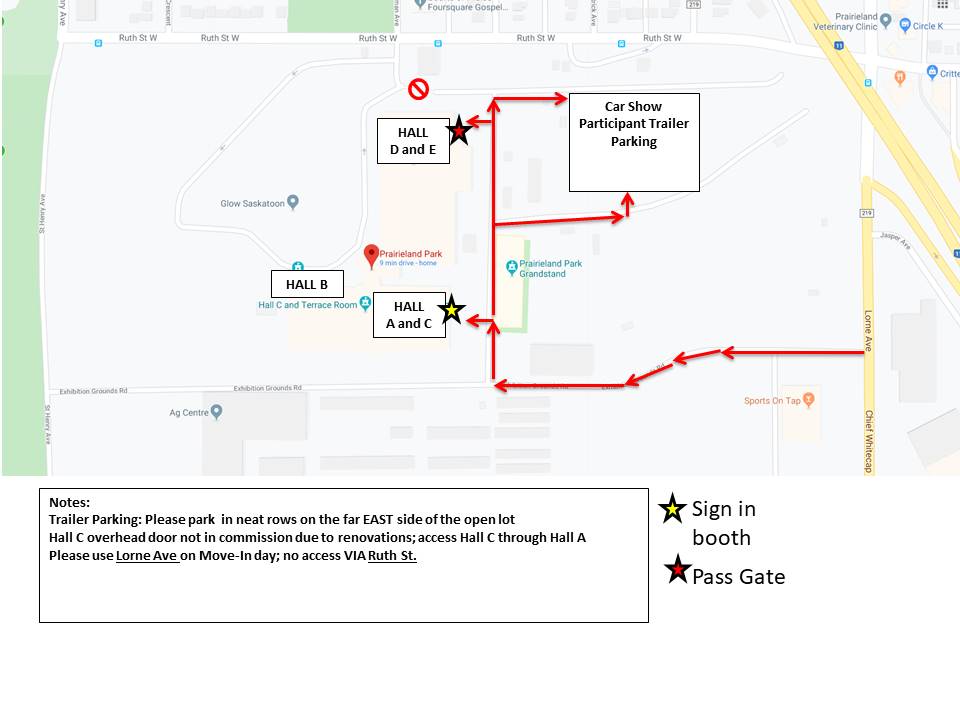 ---
Refund Policy
We reserve the right to refuse any entry upon inspection at the door (money will be refunded).

In order to receive a refund 24 hours notice is required for cancellation.
---